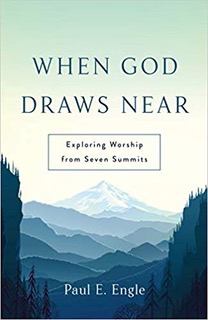 Exploring Worship from Seven Summits
Phillipsburg, NJ: P&R Publishing, 2019
Does going to church feel more like a duty than a privilege?
Too many of us are in danger of overlooking the awesome presence of God in corporate worship. We've missed the fact that amazing things happen when God draws near.
Paul Engle invites us to join him at seven different biblical mountains where God met his worshipping people. Explore biblical history—from Sinai to Zion to Carmel to Gerazim to Hermon to the Mount of Olives to the heavenly Zion—and gain a fresh appreciation for the awesome privilege and reward of coming into God's presence in God-centered assemblies today.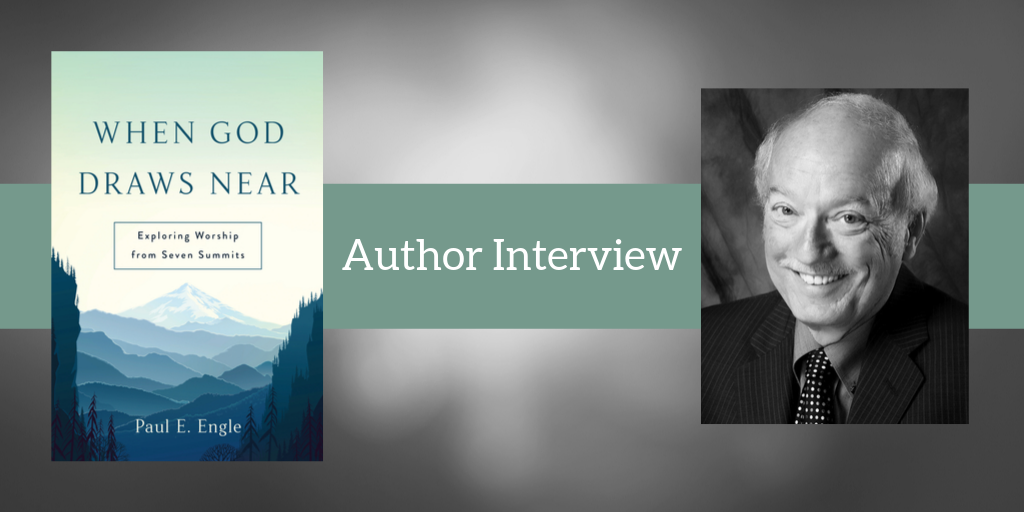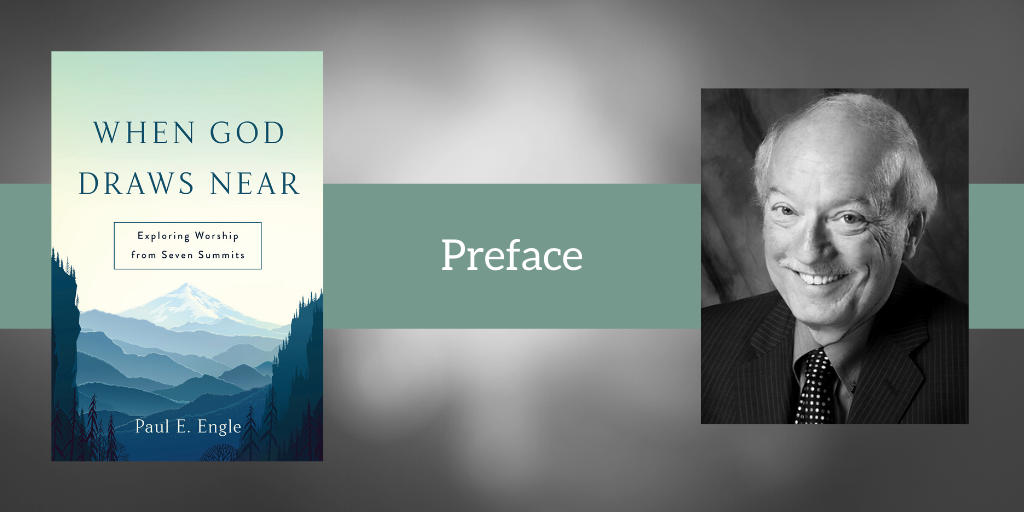 ENDORSEMENTS
An imaginative journey through the Bible, organized around visits to seven of its best known mountains as a way of showing the true nature of worship. Because worship is central to Christian life, a book like this, in which the author has dug deeply into Scripture, is most welcome. Fresh breezes blow through its pages.
David F. Wells
Distinguished Senior Research Professor
Gordon-Conwell Theological Seminary
Bible readers are mountain climbers because the biblical authors and poets often invite us to meet the Lord in high places. Engle takes us to a series of summits and uses lively prose to recreate these high-elevation revelations. What is more, he demonstrates how these mountain-top experiences motivate and direct our worshipful response.
John A. Beck, Ph.D. Author and Adjunct Faculty,
Jerusalem University College
If our chief purpose is to "glorify God and enjoy Him forever," then no other activity is as important to the believer's well-being as worship. In When God Draws Near Paul Engle describes the biblical and theological terrain that shapes this spiritual landscape. Thoughtful and engaging, this book will transform your understanding of what it means to approach God.
Dr. John Koessler, Faculty Emeritus, Moody Bible Institute and author of Practicing the Present: The Art of Living in the Now
Today's church is both divided and confused about worship. Our focus is too often on the satisfaction of human needs rather than on the offering of praise to our eternal God. Paul Engle uses the stories of seven mountains in Scripture to remind us of the trinitarian God who is what worship is all about.
Douglas J. Moo, Wessner Chair of Biblical Studies, Wheaton College
Chair, Committee on Bible Translation
In When God Draws Near, Engle focuses the heart of biblical worship on the presence of God dwelling with his people. In this accessible and creative book that examines seven mountains in the Bible, he presents the crucial bookends of creation and consummation within a progressive unfolding biblical theology of worship. His final two chapters on Mount of Olives and Mount Zion Above are especially moving and motivating for the church today as we "participate in heavenly worship through Christ by faith." I heartily recommend When God Draws Near as a great resource for teachers and learners in the educational ministry of the local church.
Dr. Mark Dalbey,
President and Associate Professor of Applied Theology
Covenant Theological Seminary, St. Louis, MO
What an intriguing and readable book on worship geography! Whether or not your worship this Lord's Day felt like a mountain top experience, Paul Engle uses the mountains of the Bible to explain what happens when Christians gather for worship, and how we might do it better.
Mike Wittmer
Professor of Systematic Theology, Grand Rapids Theological Seminary
Cornerstone University
Dr Engle confronts the global crisis of man-centred worship and its tendency to dominate the evangelical church. He writes, "The great divide in some quarters of the Christian community is not formal vs. informal, contemporary vs. tradition, but God-centered vs. man-centered". This book insightfully takes us on an exciting journey of redemptive history 'mountain tops' in order to reclaim God-centred, Biblical worship to bring us Coram Deo!
Bob Penhearow, president, professor, editor,
Carey International University of Theology.
This insightful and helpful book can serve as a handbook for worshippers, a mountain map—teaching them what it means to gather for worship and the impact worship can have on their lives. Moving from Genesis to Revelation, Paul Engle takes readers on a biblical journey of mountain-top worship that enables them to see what God is doing in them and among them as they worship, as they meet the God of the Universe and experience his presence.
Scott M. Gibson, Professor of Preaching, Holder of the David E. Garland Chair of Preaching, Baylor University's Truett Seminary
Worship as a mountaintop experience, who knew? Worship is an event for believers, but it is too often misunderstood. A prevailing notion is that worship is about "me," with an emphasis on personalities and performance. A "me" centered worship service can easily turn into a therapeutic session. When God Draws Near provides a biblical and insightful corrective. Mountains are massive and imposing, intended to make us feel small but hopeful. Dr. Engle leads us on a mountain climbing expedition that shows us how God calls us to worship on his holy mountain. From the Garden to the New Jerusalem we are shown the centrality of God in worship and how this can enhance our present earthly worship.
Dr. Dominic A. Aquila, President, New Geneva Theological Seminary Colorado Springs, Colorado
Does your heart long for deep, meaningful worship? Do you wish that God himself had given us a blueprint for worship? When God Draws Near shows how God has done just that! Herein Dr. Paul E. Engle provides a biblical theology of worship from Genesis to Revelation, taking the reader from Eden to the heavenly Jerusalem. If you desire God-centered, soul-satisfying worship, this is your book!
Timothy K. Hoke, DMin. Acting Vice Chancellor, African Bible University, Kampala, Uganda
I guarantee that no one will be bored reading Paul Engle's new book, When God Draws Near. Engle is a captivating tour guide leading his readers through hiking expeditions to seven mountains featured prominently in Scripture, each mountaintop experience proving foundational to a biblical understanding of worship. Engle is also a riveting storyteller weaving his firsthand accounts of climbing these mountains with significant truths about worship. The result is an utterly fascinating and interesting read.
Rory Noland, Director, Heart of the Artist Ministries, author
When God Draws Near is a fascinating study of worship explained through the lens of seven biblical mountains and applied to the daily life of every Christian. My reading was rewarded with a steady flow of interesting biblical information enriched by the author's personal experiences while traveling in the Middle East and elsewhere. The author adds layer upon layer of insight into the images and theology of worship, filling the word worship with meaning, and motivating the reader to delight in our calling to be worshipers. I heartily recommend the book.
Craig Brian Larson, author and pastor, blogger: Knowing God and His Ways, at CraigBrianLarson.com
Dr. Paul Engle is a master teacher. I have been the beneficiary of his teaching ministry many times. Paul provides compelling insights about the subject he treasures the most, the worship of our great God. I am grateful that he has chosen to make his profoundly insightful discoveries acquired through his extensive travels and studies accessible in book form.
Rev. Bernie Lawrence, Senior Associate Pastor, Christ Covenant Church, PCA, Matthews, NC
Dr. Paul Engle provides a much-needed resource to the church in his book, When God Draws Near. The book clearly unfolds not only who the Covenant God is, but how He wants His people to worship Him in His presence. I wished that this book was available to me when I started out as a pastor forty years ago.
Rev. Bruce Creswell, Associate Pastor of Senior Adults and Visitation
Christ Covenant Church, PCA, Matthews, NC
This is a timeless and refreshing climbing guide that provides an illuminating perspective on what worship is. John Muir once said, "The mountains are calling, I must go."  When God Draws Near: Exploring Worship from Seven Summits summons one to delight in the vistas worship creates by pondering what worship is.
Darwin K. Glassford, Executive Pastor,
Harderwyk Ministries, Holland, MI
Worship has been Paul Engle's lifelong passion—in his own spiritual life as well as through his teaching, preaching, and writing. . . Each of [these] summits . . . offers a unique high vantage point from which we can view worship. Engle's own experiences, climbing these mountains brings immediacy to his wise insights.
Lee Eclov, Senior Pastor, Village Church of Lincolnshire, Lake Forest Illinois, Author Feels Like Home.
Theologically rich, engaging to read, and filled with unexpected implications, Paul's book will energize as we weekly climb Mount Zion in the heavenly Jerusalem to join the myriad of angels and those who have gone before us in praising our ascended King Jesus.
Robert D. Jones, Associate Professor of Biblical Counseling, The Southern Baptist Theological Seminary, Author, Pursuing Peace and Uprooting Anger