God's Answers for Life's Needs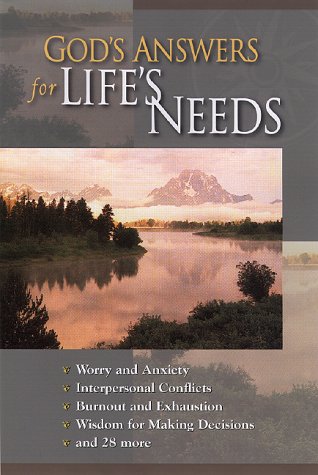 Finding Peace
Fixing Our Eyes on the Lord
Giving Thanks in All Circumstances
Grieving the Death of Someone Close
Growing Older
Heavenly Perspectives
Honesty
Illness
Incentives for Prayer
Interpersonal Conflicts
Learning Patience
Marital Conflict
Moral Purity
Natural Disasters
Preparing for Marriage
Preparing for Sunday Worship
Rebellious Children
Resisting Temptation
Using Scripture in Daily Life
Wisdom for Making Decisions
Work and Leisure
Worry and Anxiety
How to Use This Book
We live in a postbiblical era in which general knowledge of the Bible can no longer be assumed—both within and without the church. Not surprisingly, this decline in biblical knowledge is accompanied by a corresponding inability to use the Bible in practical ways to find answers to life's daily needs. Many people today turn to pop culture icons newspaper horoscopes, motivational seminar, or on-line chat rooms and blogs instead of the Bible.
The Bible was never intended to be a closed book within leather covers, opened only by clergy on Sundays within the walls of a church. Scripture is God's gift to equip each of us to face the entire range of situations that arise throughout life's journey (see 2 Tim. 3:16). Financial pressures, illness, interpersonal conflicts, natural disaster, rebellious children, temptations, and the myriad other situations that fill our days should drive us to the Scripture in which we find our center of gravity.
God's people throughout history have looked to Scripture as a source of comfort, encouragement, and reliable wisdom because it is God's inspired and living Word. J.B. Phillips tells us in his book Ring of Truth how he discovered, when translating the Greek text of the New Testament into contemporary English, that "although I did my utmost to preserve an emotional detachment, I find again and again that the material under my hands was strangely alive; it spoke to my condition in the most uncanny way" (p,25). Scripture still speaks to us in the twenty-first century.
Why Was This Book Written?
This book was written to provide a practical tool to quickly summarize what the Bible teaches about thirty-two common situations from daily life. Each chapter provides the following:
A series of summary statements outlining the Bible's teaching on various life needs or situations.
Selected significant Scripture verses from five different translations relating to each summary statement.
A personal prayer to guide one's thoughts in praying for each need or situation.
A biblical promise to claim and on which to meditate.
A quotation from a Christian leader relating to each subject.
We need to clarify that this book intentionally includes only selected verses rather than exhaustive information on each topic. We trust that its readers will be motivated to open their Bibles and read entire passages in context. God often chooses, however, to use selected small portions of Scripture to minister to our spirits in the midst of life's trials. As Margaret Clarkson observes in her book Grace Grows Best in Winter:
Here fragments of the Word frequently serve a special purpose in the Spirit's ministry. As myriad drops of dew reflect the sun's rays, each with a similar yet totally differing glory, so tiny bigs and pieces of Scripture reflect new faces of radiance from long-loved truths to illumine new phases of old sorrows and meet our recurring needs. It is both easy and perilous to neglect or ignore such fragmentary sources of nourishment when we may not have the good to which we are accustomed, we must not despise the day of small things. Fragments of Scripture in the hand of God can minister to our spirits and sustain us through many: let us learn to seek them out and use them. (pp.27-28)
A. W. Tozer once remarked, "I have always felt that when we read and study the Word of God, we should have great expectations. We should ask the Holy Spirit to reveal the person, the glory and the eternal ministry of our Lord Jesus Christ." It is our prayer that you will meditate on the Scripture references in this book with a keen expectation that God will use his timeless, inspired Word to directly address your deepest needs. May you experience God's sustaining grace in a fresh way, and may the fragments of Scripture minister to your spirit and sustain you through all the circumstances of your life's journey.