---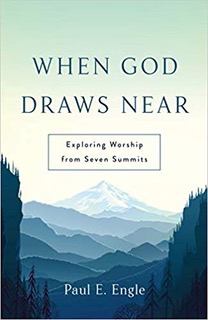 When God Draws Near: Exploring Worship from Seven Summits
Phillipsburg, NJ: P&R Publishing, 2019
Does going to church feel more like a duty than a privilege?
Too many of us are in danger of overlooking the awesome presence of God in corporate worship. We've missed the fact that amazing things happen when God draws near.
Paul Engle invites us to join him at seven different biblical mountains where God met his worshipping people. Explore biblical history—from Sinai to Zion to Carmel to Gerazim to Hermon to the Mount of Olives to the heavenly Zion—and gain a fresh appreciation for the awesome privilege and reward of coming into God's presence in God-centered assemblies today.
Purchase this book:
Amazon.com
Christianbook.com
WTSbooks.com
BarnesandNoble.com
Koorong.com
BooksAMillion.com
---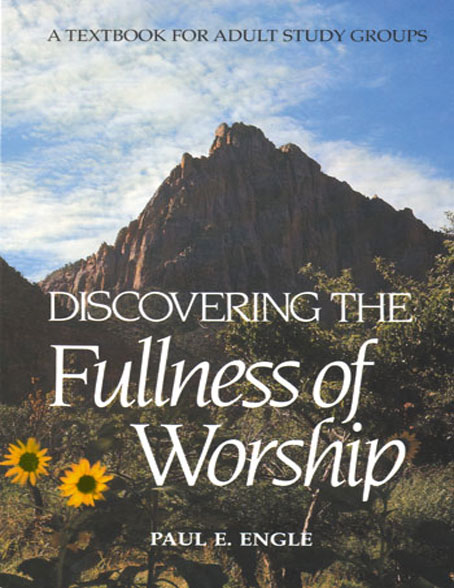 Discovering the Fullness of Worship: A Textbook for Adult Study Groups
Suwanee, Georgia: Great Commission Publications, 1991
In a day when many false views of worship exist, it's time to find out what the Bible says. Paul Engle thoroughly explores the subject using both the Old and New Testaments.
The rediscovery of God-centered worship must come from a fresh examination of the biblical teaching about worship. . . [and] one thing the Bible clearly teaches is that worship depends on knowing the self-revealing God.
The study offers practical help in understanding the parts of a worship service, preparing for worship and enriching the private and corporate worship experience.
Purchase this book :
Amazon.com
GCP.org
---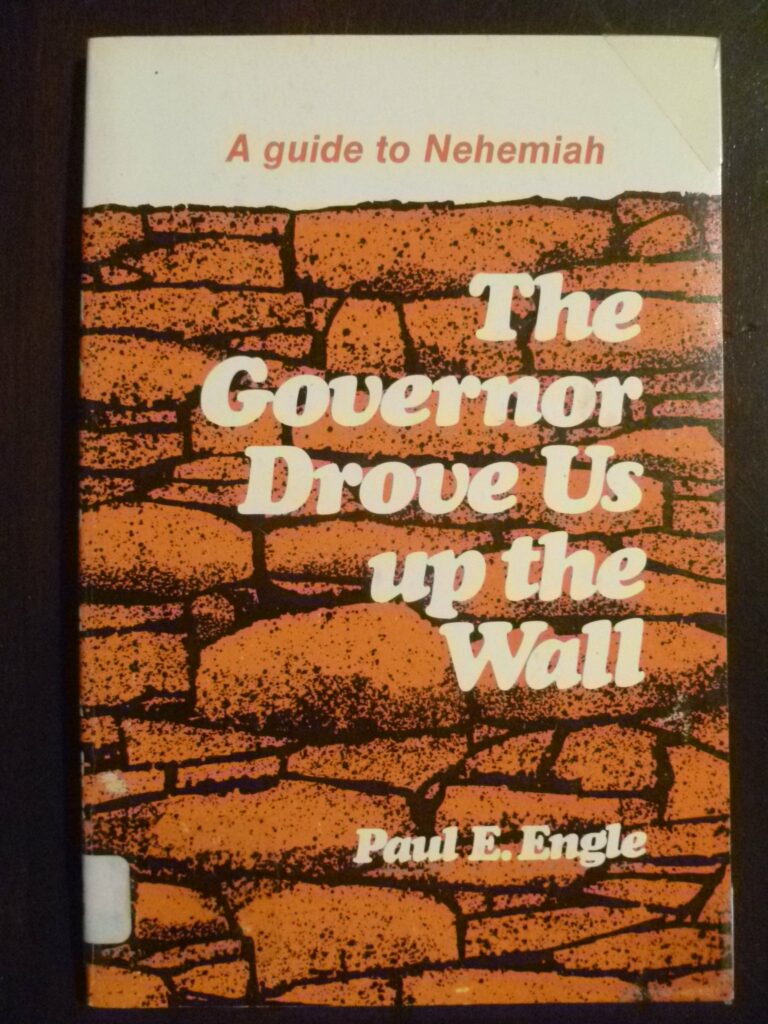 The Governor Drove Us Up the Wall: A Guide to Nehemiah
Philadelphia: Great Commission Publications, 1984
The church today doesn't need more walls, but does need more Nehemiahs—people who will build and strengthen God's kingdom. You can learn to be one of them.
The Governor Drive Us Up the Wall is about Nehemiah's personal walk with God and his leadership. He was a man for his time who wanted to see things happen. And he was willing to do his part.
This book focuses upon Nehemiah as both servant and leader. Explore his life and you will discover what it takes to be a builder of Christ's church.
Purchase this book :
Amazon.com
---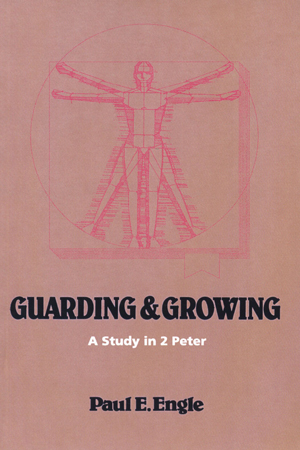 Guarding and Growing: A Study in 2 Peter
Philadelphia: Great Commission Publications, 1988
Peter's second epistle addresses critical issues that affect the well-being and growth of God's people—
Believers drifting away from the faith
Spiritual blindness and blandness
False teaching infiltrating the church
Confusion about the end times
It's a 1st-century message with relevance for 20th century Christians. Problems that plagued the early church are still around, but so are the resources God provided for solving these problems.
Engle focuses on the affirming truths of 2 Peter and how they offset the dangers to our faith. He unwraps key biblical doctrines—such as election and inspiration of Scripture—to remind us of what we believe (or should believe) and stimulate us to greater faith.
The "bottom line" is spiritual development: to build you in the Word of God, to rekindle your assurance and to further equip you for the work of guarding and growing Christ's kingdom.
Even mature Christians need the stimulation of repeated reminders of the truths of the Christian faith.
Purchase this book :
Amazon.com
---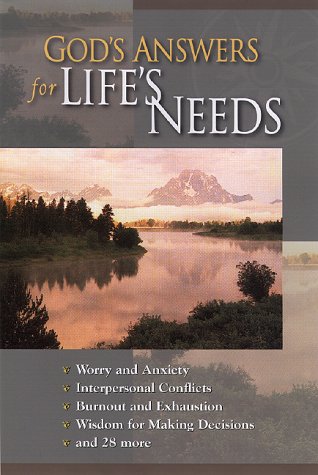 God's Answers for Life's Needs
Grand Rapids: Baker Books, 2000
You know the Bible is full of wisdom. But where do you look to find answers to life's difficult situations?
God's Answers for Life's Needs is a handy reference that tackles thirty-two common life issues by summarizing key Scripture verses and providing prayers and promises related to topics such as:
Loneliness
Growing Older
Financial pressures
Marital conflict
Resisting temptation.
From a birth in the family to dealing with rebellious children to facing one's own death, the Bible has wisdom and insight to help you in every situation. Whether you are a brand-new believer not yet familiar with the Bible or a mature Christian involved in ministering to others, this well-organized material will help you tap into the treasure chest of Scripture and find help along life's journey.
Purchase this book :
Amazon.com
---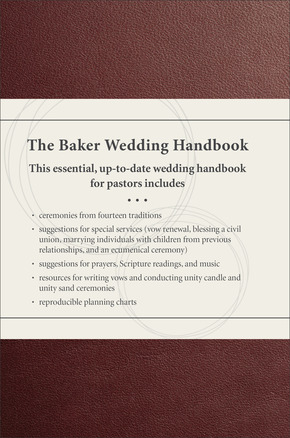 The Baker Wedding Handbook
Grand Rapids: Baker Books, 2017.
This essential up-to-date wedding handbook for pastors includes:
Ceremonies from fourteen traditions
Suggestions for special services (vow renewal, blessing a civil union, marrying individuals with children from previous relationships, and an ecumenical ceremony)
Suggestions for prayers, Scripture readings, and music
Resources for writing vows and conducting unity candle and unity sand ceremonies
Reproducible charts
A comprehensive resource for conducting traditional and contemporary weddings in a convenient size that's easy to hold when officiating a wedding.
Purchase this book :
Amazon.com
Christianbook.com
BooksAMillion.com
BarnesAndNoble.com
Koorong.com
---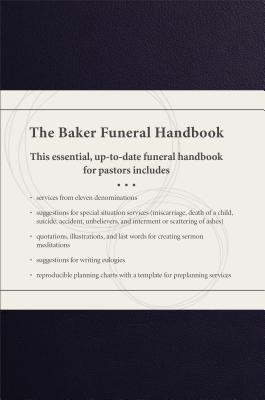 The Baker Funeral Handbook
Grand Rapids: Baker Books, 2017
This essential, up-to-date funeral handbook for pastors incudes:
Services from eleven denominations
Suggestions for special situation services (miscarriage, death of a child, suicide, accident, unbelievers, and interment or scattering of ashes)
Quotations, illustrations, and last words for creating sermon meditations
Suggestions for writing eulogies
Reproducible planning charts with a template for preplanning services
A comprehensive resource for conducting funerals, memorials, and graveside services in a convenient size that's easy to hold when officiating a funeral.
Purchase this book
Amazon.com
---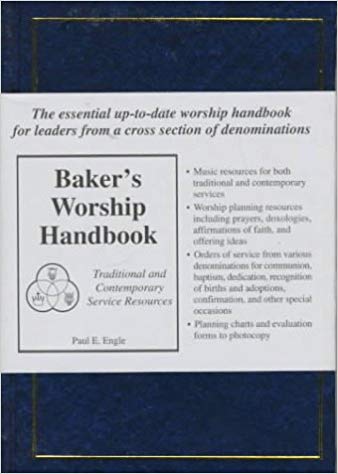 Baker's Worship Handbook: Traditional and Contemporary Service Resources
Grand Rapids: Baker Books, 1998.
The essential up-to-date worship handbook for leaders from a cross section of denominations.
Music resources for both traditional and contemporary services.
Worship planning resources including prayers, doxologies, affirmations of faith, and offering ideas.
Orders of service from various denominations for communion, baptism, dedication, recognition for births and adoptions, confirmation, and other special occasions
Planning charts and evaluation forms to photocopy
Baker's Worship Handbook is a comprehensive, creative, and up-to-date reference for planning and leading worship services. This pocket-size volume makes an excellent gift for church staff members and students as well as a resource for members of worship committees and planning teams.
Purchase this book :
Amazon.com